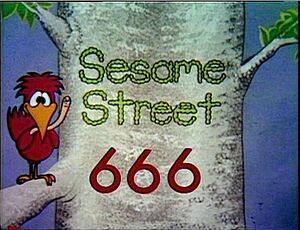 Picture
Segment
Description

SCENE 1
The Count has climbed up to the top of the Sesame Street lamppost so he can count all the lights on the street as they come on.

Muppets
Little Chrissy and the Alphabeats sing "Exit" as the audience leaves the room.

Cartoon
A man explains that the letter E begins both Enter and Exit. Another man named Roy runs through the doors.
(EKA: Episode 0406)

Song
Joe Raposo sings "Touch and Feel".
(EKA: Episode 0271)

Cartoon
Three children are being chased by a giant mutant rabbit as fast rock music accompanies the chase. They outsmart him by hiding behind three trees.
Artist: Etienne Delessert

Muppets
Game Show: "Dialing for Prizes Movie": Guy Smiley gives the lucky caller a group of monsters as a prize.

Film
Marching band cymbal crash #2

Cartoon
A caterpillar escapes a hungry bird by turning into a butterfly.
Artist: Etienne Delessert

Muppets
Pageant: How a flower is grown

Cartoon
A man saws a letter E through the wall.
(EKA: Episode 0409)
This segment was cut from the Noggin version.

SCENE 2
Rodeo Rosie meets everyone in Hooper's Store and brags about how big everything is, where she comes from.

Film
Baby pigs run in a field, and drink their mother's milk.
(EKA: Episode 0441)
This segment was cut from the Noggin version.

Muppets
Roosevelt Franklin Elementary School: Roosevelt Franklin talks to his class about Africa. Smart Tina thinks that Africa is just a big jungle, because she's seen it that way in Tarzan movies. Roosevelt corrects her; only a small portion of Africa is a jungle. Africa also has cities and deserts and lakes. Hard Head Henry Harris compares Africa to Smart Tina.

Cartoon
Jazzy Alphabet (male chorus shouts each letter)

Cast
Maria sings "Three Whipped Cream Pies on the Wall" (which she eventually gets pelted with).

Film
A mailman on horseback delivers mail in the Appalachian mountains of Kentucky.

SCENE 3
The cast sings "What's the Name of That Song?"

Cartoon
King Minus and the Disappearing Dragons
(EKA: Episode 0439)

Muppets
Ernie & Bert — At the movies, Ernie reacts to a sad, funny, scary movie, to Bert's embarrassment and the annoyance of the other viewers.
(First: Episode 0627)

Cartoon
Beetle Bailey wants to be first in the chow line, but he ends up last.

Muppets
Kermit, Farmer Grover and a horse show how a horse-and-cart works.

SCENE 4
Oscar and the cast show "none," "some," and "all" with emotions.

Cartoon
Rumba pencils (first, last, Crazy Melvin)

Muppets
Ernie & Bert — Ernie explains to the audience how people have two of everything: "two eyes, two ears, two hands, two noses..." "Hey, hey you ding-a-ling!" Bert interrupts. "You've only got one nose!" Ernie promptly pulls Bert's nose off, sticks it to his own face, and keeps counting. "Two noses, two hands, two ears, two eyes ... too bad!"
(First: Episode 0061)

Film
Building a log cabin
This segment was cut from the Noggin version.

Cartoon
A minstrel sings about a fox who outsmarts a crow.
Artist: Etienne Delessert

Cartoon
E for Erase

Song
Joe Raposo sings "Frog Struggle Song."
(EKA: Episode 0592)

Animation
Sand E/e




SCENE 5
The Count is still up on the lamppost sign. It's now dark, and the Count watches as everyone turns out their lights. After counting 9 lights, he waits for the street light to turn off. However, when Luis tells him that it doesn't turn off until daylight, the Count decides to sleep there.

A sleepy Bert announces the sponsors.




CLOSING SIGNS
Maria and Luis hold up the Sesame Street sign while Mr. Hooper, the Count, and Susan hold up the CTW sign at the end.
Alterations
Picture
Segment
Description

Muppets
Beat the Time with Grover.
(EKA: Episode 0454)
On the DVD release of this episode, this segment replaces the "Dialing for Prizes" game show segment.
Cast