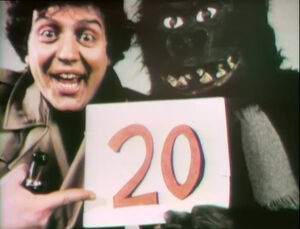 Film: 'Fred, Get Me a 20!' - Detective Fred (Joe Raposo) is sent by his boss (Danny Epstein) to locate the number 20. Throughout the office and on the streets of New York, Fred tracks down the numbers 11 through 18 in numerical order by spying his surroundings. When he finds his way to Apartment 19, he discovers it is occupied by a gorilla, who leads him directly to the elusive 20. (EKA: Episode 0277)
Ad blocker interference detected!
Wikia is a free-to-use site that makes money from advertising. We have a modified experience for viewers using ad blockers

Wikia is not accessible if you've made further modifications. Remove the custom ad blocker rule(s) and the page will load as expected.