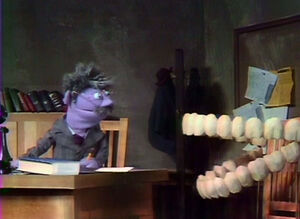 A set of Teeth visits an employment agency to find a job. He can't take the proposed jobs of smelling and listening, but he knows a nose and an ear that can. When asked what he does well, Teeth says that he can bite and chew things. He demonstrates by chomping up the desk. (EKA: Episode 0406)
Cartoon: Violet climbs a vine with V words.
Luis classifies a basket of kittens in Spanish.
Ad blocker interference detected!
Wikia is a free-to-use site that makes money from advertising. We have a modified experience for viewers using ad blockers

Wikia is not accessible if you've made further modifications. Remove the custom ad blocker rule(s) and the page will load as expected.