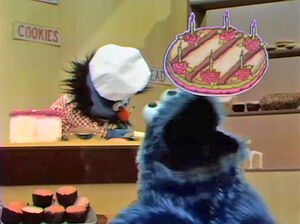 Cookie Monster: Cookie Monster goes to the bakery for a special birthday cookie. The baker lists all the ingredients of the cookie, as Cookie visualizes it. The visualized image looks so delicious that he eats it.
Cartoon: La letra T es para tigre, tomate, taxi, toro, telefono, televisión, y el terrible tiburon. (EKA: Episode 0324)
Cartoon: T is for Television (Spanish version)
The Girl, The Tree and the Terrible Troll (3-part story)
Old West: The James Twins, who do everything together (even the speaking), arrive at the saloon and demand some "mu" and "sic." The patrons don't understand until they put the two parts together.
Film: Slide-puzzle of a boy.
Film: Lions walk down a trail.
Ad blocker interference detected!
Wikia is a free-to-use site that makes money from advertising. We have a modified experience for viewers using ad blockers

Wikia is not accessible if you've made further modifications. Remove the custom ad blocker rule(s) and the page will load as expected.