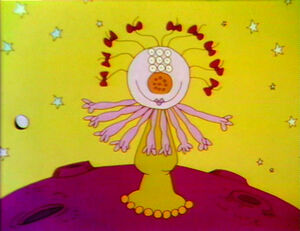 "Martian Beauty" has nine hairs, nine bows, nine eyes, nine nostrils, nine arms and nine toes.
Cartoon: "A Loaf of Bread, a Container of Milk, and a stick of Butter" -- A little girl remembers what to buy at the store by visualizing her mother giving the instructions. Artist: Jim Simon (EKA: Episode 0420)
Ad blocker interference detected!
Wikia is a free-to-use site that makes money from advertising. We have a modified experience for viewers using ad blockers

Wikia is not accessible if you've made further modifications. Remove the custom ad blocker rule(s) and the page will load as expected.