Ad blocker interference detected!
Wikia is a free-to-use site that makes money from advertising. We have a modified experience for viewers using ad blockers

Wikia is not accessible if you've made further modifications. Remove the custom ad blocker rule(s) and the page will load as expected.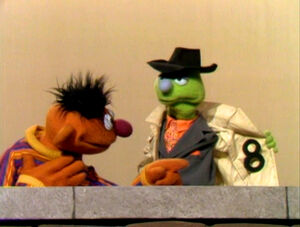 Cartoon: J Family Jamboree (shown twice)
Lefty wants to sell a number 8 to Ernie, who ran out of money buying some number 9s. Ernie then offers to sell Lefty his number 9s. (First: Episode 0079)
A drummer calls attention to the word "STREET."
Cartoon: "Joe and the Junebug" - Two boys scrutinize a J, saying it looks like a fish-hook. A resonant voice (Gary Owens) informs them that it's the letter J. This leads to a jazzy story about Joe. Moral: "Don't jive a judge by jamming a junebug." (First: Episode 0009)