Ad blocker interference detected!
Wikia is a free-to-use site that makes money from advertising. We have a modified experience for viewers using ad blockers

Wikia is not accessible if you've made further modifications. Remove the custom ad blocker rule(s) and the page will load as expected.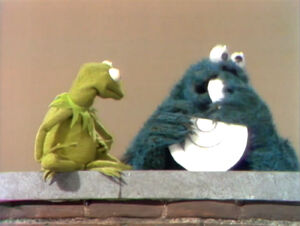 Cartoon: A showcase of things that begin with A, ending with avalanche and ambulance. (shown in English and Spanish) (EKA: Episode 0132)
Cartoon: A man displays the capital and lowercase A, and explains what an alligator is. (First: Episode 0006)
Kermit and Cookie Monster demonstrate what it is to be happy, angry and sad. Kermit gets angry when Cookie Monster eats the happy face that Kermit provided, Cookie Monster feels sad when Kermit threatens to tell Cookie's mommy what he did, and that makes Kermit happy because he was able to do his demonstration without the tasty styrofoam faces. (First: Episode 0066)
Ernie asks Bert to go play in the park with him. When Bert says "no", Ernie wonders if he isn't feeling well, and starts to examine him. (First: Episode 0124)
Cartoon: B is for Bongo Beat, Bandit, and Bottles of wine. (EKA: Episode 0303)
The Mad Painter's quest to paint a 5 leads to the zoo, and a gorilla. He finds something to paint his 5 on, and it's a big yellow ball. Even the gorilla helps him out, and they give each other a "5".