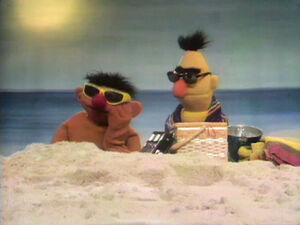 Mr. Hooper tells Oscar that he had a lot of trash in the basement of his store. He asks if Oscar will take care of it for him. Oscar is delighted -- and when Mr. Hooper leaves, Oscar spreads the junk all over the store as if he were a decorator. He thinks the store looks great now! When Mr. Hooper returns, he insists that Oscar take all the trash away, and put it in his trash can. Again, Oscar is delighted.
Maria sings and teaches her friends the Verbena game -- it's like a Spanish "London Bridge".
Ernie and Bert: It's a sunny day at the beach, and Bert remembered to bring everything. Ernie, however, only brought an umbrella in case it rains... which it does.
Grover is carrying the word "HELP". The word is very heavy. He asks Herbert Birdsfoot to help him carry the word. Instead, Herbert gives Grover three more "HELP" words to carry.
Mr. Hooper shows that k is for kettle; David demonstrates that k is for kick; Maria shows that k is for ketchup.