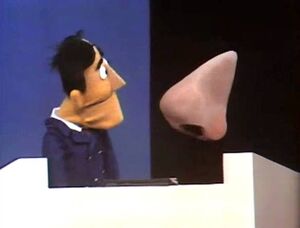 Molly's friends bring her some get-well gifts. Gordon gives her an apple, Mr. Hooper gives her a get-well card, and Maria gives her a bouquet of flowers. They then bring Oscar some get-well gifts. Gordon gives him a jar of mud, Mr. Hooper gives him an old tin can, and Maria gives him an old dust rag.
Gordon explains to Big Bird that the yellow pieces on a corncob are called kernels, and the outside green part is called the husk.
Wally and Ralph: Ralph is standing between two trees, playing with a long piece of rope like a cowboy. Along comes Wally carrying a wet shirt. Together, they solve the problem of where to hang the wet shirt to dry. They tie the ends of the rope around their chests, stretch it, and hang the shirt between them.
Big Bird recites his poem about the giraffe.
Mr. Snuffleupagus tells Big Bird that he is two years old today. Big Bird decides to throw a surprise birthday party for his friend, so he leaves to get party hats, balloons, a birthday cake and two candles. He invites Mr. Hooper, Molly, Gordon and Maria. But when they get there, Mr. Snuffleupagus isn't around. They leave, and Mr. Snuffleupagus returns to blow out the two candles and enjoy the party with Big Bird.
Maria opens her fan and explains that the tail of a peacock opens the same way.