Episode 0327
Talk

0
26,854pages on
this wiki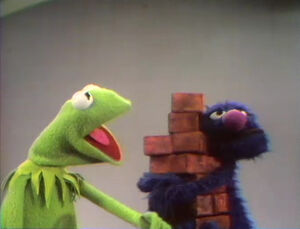 Two children want their picture taken. Molly only has one photo left on her roll of film. After arguing for a while, the children decide to cooperate and have a picture taken together.
Ernie and Bert: Ernie thinks that he isn't special. Bert tells Ernie to feel his nose -- "That's an Ernie nose!" -- and then feel his hair, and wiggle his fingers. Bert says that nobody else is just like Ernie. Encouraged, Ernie tells the audience to do the same. (EKA: Episode 0276)
Molly says Y is for Yarn. Oscar says that Y is for Yell.