Sesame Street
Plot
Tom, dressed as Super-Duper Man, tries to remember how to take off.
Air date
January 10, 1972
Season
Season 3 (1971-1972)
Sponsors
E, 9

This episode guide has been compiled from materials at the CTW Archives.

ⓘ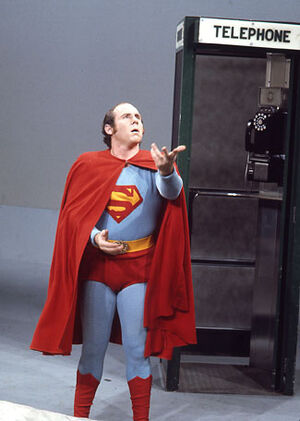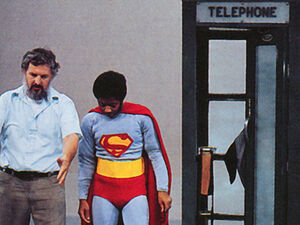 Luis introduces the number of the day by bouncing a basketball 9 times.
Bob and Luis sing the Classification Song, Bob using a chair, table, bed and shirt. The kids guess that the shirt does not belong in the set. Now Luis plays the game, in Spanish, using a sock, a hat, a dress, a shoe, and a hot dog. The kids guess that the hot dog does not belong.
Tom, dressed as Super-Duper Man, is all set to leap tall buildings in a single bound, but can't remember the word "UP" in "Up, up and away!" The announcer, David, flashes the word in front of Tom, but he can't quite make it out... could it be "Down, down and away"?
The announcer wearily demonstrates the word "UP" once more, but Tom can't quite make out the letters. Maybe it's "Around, around and away!" Tom gets dizzy, but still doesn't get off the ground. David, the announcer, finally gives up, and tells the flustered Super-Duper Man that the word is "UP". With this, David flies off the set, leaving the puzzled Super-Duper Man hopelessly grounded.
Kids are jumping rope on Sesame Street, and Antonio knows a good rope-jumping song in Spanish. Luis provides the English translation, as Antonio and the kids demonstrate the song.
Little Boy Gordon is busy reading a storybook, while Little Boy Bob blows bubbles. Gordon wants the bubbles, and takes them from Bob. Now empty-handed, Bob begins to cry. Demonstrating cooperation, Gordon gives his storybook to Bob. Each has a toy, and both are happy.
Bob, Tom, Luis and Cookie Monster present a show of E inserts; Cookie Monster demonstrates the letter "E" by swallowing an egg whole.
Susan is in the yard with some kids. She has a picture of two men, and pictures of a fireman's hat, slicker coat, and hose and those of a baker's hat, apron and loaf of bread. The kids have to dress one figure as a fireman, and the other as a baker.
Tom, Bob, Luis and Susan demonstrate "Before and After" with the aid of a club sandwich, a barbershop scene, and a growing plant.
Bob has pictures of an underwater scene showing a swimming bird, a circus parade of elephants followed by a fish, and a bird's nest with an elephant in it. The kids have to guess what is wrong in each scene.
"Martian Beauty" has nine hairs, nine bows, nine eyes, nine nostrils, nine arms and nine toes.