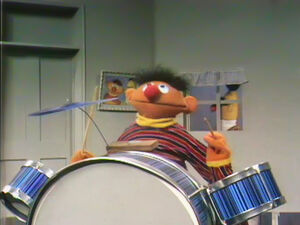 It's a sunny day on Sesame Street, and Tom asks the viewers to imagine what it would be like if there were no sun: it would be night all the time, plants wouldn't grow, and it would be cold.
Bob makes a paper airplane, and Big Bird throws it so high that it gets caught on the top branches of a tree. While Bob is gone to get a pole to knock it down, Mr. Snuffleupagus arrives and blows the plane down with his snuffle.
Maria sings the Classifying Song in Spanish.
Ernie and Bert: Bert goes out to mail a letter, and depends on Ernie to let him in when he knocks, but instead of letting Bert in, Ernie repeats Bert's knocks on the drums. (First: Episode 0280)
Oscar orders five hamburgers for the meeting of the Disagreeable Order of Grouches. Tom puts out five paper plates, five rolls, five pickles, five slices of onion, five globs of mustard and five scoops of chili as Oscar counts.
Bob shows some art card pictures and asks what is wrong with them. He shows a spider in a barn stall, a bird in a spiderweb, a horse in an underwater scene, etc.
Story: Bob reads the story of "The King and the Fireman", a story about a king who becomes so grateful for being saved by a fireman that he decides to make everyone in the kingdom a firefighter... and soon realizes what a mistake he's made. (EKA: Episode 0278)
Big Bird recites his poem about the letter Y.
Oscar taps out various messages in code on his tin can telegraph. Bob and some kids copy the same rhythms.