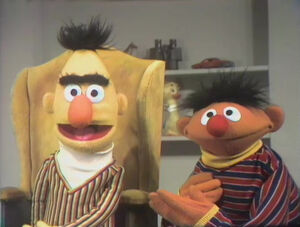 Ernie & Bert — Ernie approaches Bert in a harried manner, talking rapidly. Bert tells him to talk slower so he can understand him. Ernie says, slowly, that Bert's toast is burning, which causes Bert to speak in the same rapid, harried manner.
Harvey Kneeslapper asks a man, "Do you want me to keep an eye on your hat?" The man says yes. Harvey then puts a letter I on top of the man's hat, crushing it in the process.
Animation: Three lines attempt to individually reach the top of the TV screen, but fail. They succeed after they combine all of their lengths.