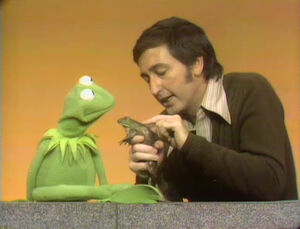 Tom leaves the store for a minute, and when he returns, someone has taken a scoop of ice cream and left a quarter. The culprit also left a yellow feather. Big Bird comes in to order an ice cream, and Tom tells him he must have quite an appetite, as he just had an ice cream. Big Bird says he didn't, but Tom doesn't believe him until a woman comes in to tell him he has delicious ice cream and to retrieve the feather that fell from her hat.
Detectives Counting 11 – 20. Fred, played by Joe Raposo, wanders the streets of New York in search of a 20 when his boss, played by Danny Epstein tells him "Fred, get me a 20!"
Susan plays a numerical correspondence game with the kids. She puts out a certain number of oranges and has the kids count to themselves and find the number that matches the oranges.
Animation: An orange pops out of a basket of fruits and gets "made up" as the face of Carmen, the role in the opera of the same name. While singing "Habanera," the famed aria from the opera, Carmen loses her "face" and can't resume singing until the wig returns.
Mr. and Mrs. Snow (snowmen) talk about bottom, middle, head, and other body parts and clothing.
Kermit's Lectures: Bob holds an American bullfrog and asks Kermit to talk about frogs. However, due to living a somewhat different life than normal frogs, what Kermit says about frogs is somewhat incorrect; for example, Kermit believes that frogs eat fried chicken and pizza, and live in apartment houses.
Anything muppets have the same face, hair, and outfits, but they have different voices.
"Same and Different" song: How are these two toys the same? Music by Joe Raposo and Jeff Moss.''
Two monsters stand on either side of a large plate of cookies. Herry Monster has an "R" on his sweatshirt and growls menacingly, "Rrrrrrrr". A fat blue monster has an "S" on his sweatshirt and hisses ominously, "Sssssssss". While they argue in this way, Cookie Monster (wearing an "M" on his sweatshirt) comes along, eats the cookies, rubs his tummy and says, "Mmmmmmmmmm".
Cartoon: A Boy and a Cart. A boy and father think of how to make a cart. ''Music: Terry Gadsden''
Cartoon: A Boy and a Cart (Spanish)
"Big Bird Buys Big Blue Book"
What's That Line Fish (Spanish)
Cartoon: Jack and the "B" Stalk (repeat)
Pixillation, with music by Joe Raposo.
Ernie and Bert: Ernie comes from finishing his bath, and tells Bert that there's something that he forgot. Bert asks if he's washed behind his ears, his neck, and his elbows. Finally, Ernie remembers that he forgot to turn off the water in the tub -- as the water level rises.
B Wall: Kids paint pictures of things that start with B. (repeat)