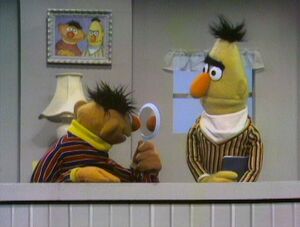 Gordon asks Big Bird if he has met folk singer Theodore Bikel yet, and describes what he looks like and what he's wearing.
Theodore Bikel and Big Bird see a tricycle with chipped paint, along with a paint can, a paint brush, a rag, and a piece of paper. Big Bird tries to guess why they are there--to make a paper glider to tow behind the tricycle? To paint the paper and wrap the tricycle to give to someone? Theodore Bikel suggests that someone is going to paint the tricycle, at which point Big Bird is able to guess correctly. Bob comes along and Big Bird tells him that he knows that Bob will paint the tricycle, and he guessed it on practically the first try.
Theodore Bikel sings "Eternity"
Theodore Bikel sings a Zulu song ("Mangwani Mpulele").
Ernie and Bert: Bert is reading a book when Ernie startles him by asking if he wants to play checkers. Bert says, "I thought maybe you weren't here!" Ernie starts to search to see if he can find himself.
Story: Bob tells the story, "The Most Beautiful Woman in the World." When a little boy can't find his mother, a village of Anything Muppets ask the boy what she looks like. He replies that she's the most beautiful woman in the world, but the boy rejects all of the beautiful women the village can find. When the boy finds his mother, it is revealed that she is a frail, gray-haired woman -- but in the boy's eyes, she is beautiful. (First: Episode 0138)
Cartoon: "Imagination O" -- A surreal story about a boy, a goat, and a bulldozer that closes up a hole in a cloud that blows the cold. (First: Episode 0011)
Cartoon: A man carrying a large "O" in a wheelbarrow recites an "O" limerick with the help of a smaller man. (EKA: Episode 0198)
Film: A child watches a building "grow", step by step, from a hole in the ground to the roof. (EKA: Episode 0184)
Ad blocker interference detected!
Wikia is a free-to-use site that makes money from advertising. We have a modified experience for viewers using ad blockers

Wikia is not accessible if you've made further modifications. Remove the custom ad blocker rule(s) and the page will load as expected.