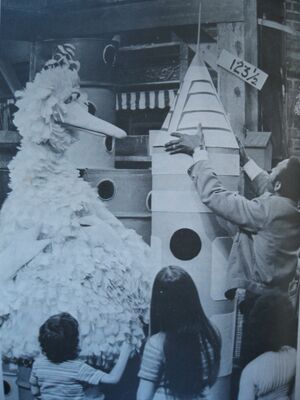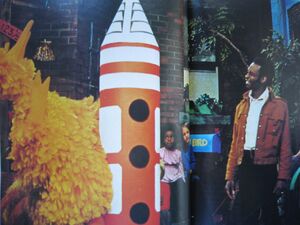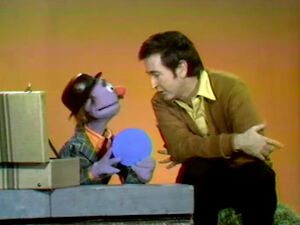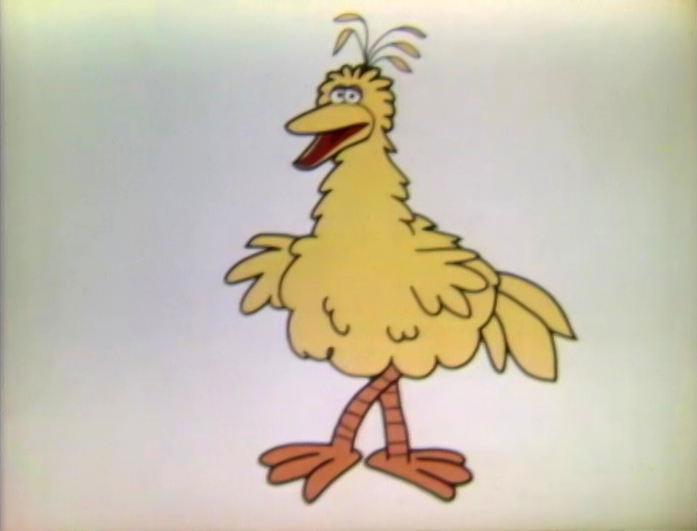 Big Bird's moon shot. With the help of some kids and a grown-up named Pete (Cleavon Little) to put the nose cone on the top, Big Bird builds a rocket that matches the plans that came in the rocket kit. With some peanut butter and jelly sandwiches from Susan, he is ready to blast off. Pete reminds Big Bird that he has only built a model, and it can't really fly. Big Bird says it can if he really really wants it to--he can use his imagination. He and the kids close their eyes and imagine flying to the moon.
Gordon shows kids shoes for different seasons--flippers, galoshes, and snow shoes.
Bob meets Samuel Snively, a circle salesman who can't tell the difference between a circle, square, and triangle.
A Muppet boy tells his mother that a robber spilled his glass of milk.
Cartoon: As voices speculate what a squiggle will become, the squiggle is joined by other lines and bumps, eventually forming into a talking picture of Big Bird.
Ernie and Bert: After watching the Jazz #8 cartoon, Ernie gets Bert to play a game with him, in which he says "I one the sandbox", Bert says "I two the sandbox", and so on until Bert gets to "I eight the sandbox." "You ate the sandbox? How'd it taste?" Ernie asks. (First: Episode 0019)
Cartoon: "Poverty X"--A figure explains how X is used at the end of words. (First: Episode 0006)
Ernie and Bert: Ernie has a treasure map of the living room, leading to a spot marked with an X. As Bert watches, he digs up a treasure chest with a letter X inside. (First: Episode 0013)
Film: Three boys (including Brian Henson) pretend to be steam shovels, playing in the dirt. This segues into footage of real construction vehicles. A parallel is drawn between the machinery and how the boys' arms and mouths work. (First: Episode 0003)
Ad blocker interference detected!
Wikia is a free-to-use site that makes money from advertising. We have a modified experience for viewers using ad blockers

Wikia is not accessible if you've made further modifications. Remove the custom ad blocker rule(s) and the page will load as expected.