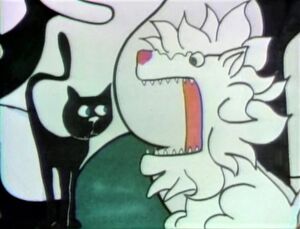 Gordon asks Oscar the Grouch for a favor -- if anyone asks for him while he goes to the flower shop, say he'll be right back. He tells Oscar he's getting flowers for Susan, just because she is a nice person. Oscar then surprises Gordon by asking him to pick up a bouquet for him to give to Susan, too. When asked why, Oscar says that just because he can't stand people, it doesn't mean he doesn't like them sometimes. Gordon comes back with two bunches of roses, and he gives his bunch to Susan with a poem while Oscar is busy arranging his bunch. Oscar then gives Susan his best rusty tin can full of thorny stems -- he picked off the yucky red part and threw it away. Susan appreciates both bouquets.
Bob shows some kids a picture of a street with stores, a car, and a telephone booth. He helps the kids recreate the scene using blocks that match the sizes of the parts of the picture.
Multiple classification: Big Bird has four blocks--a big and a small cube and a big and a small cylinder. A monster wants to play, so they try different ways of sorting the blocks--by size, shape, pattern. The monster decides to let Big Bird play with three of the blocks and he'll just keep a little bitty one. Why? Because the others are vanilla but the little one is chocolate, and he eats it.
The cast demonstrate "same" and "different" on the Street by using their feet.
Ernie imagines what it would be like if everyone looked the same. Four pink balls with eyes bounce by and illustrate his point: none of them know who's who. With some hats and wigs, Ernie helps identify each ball as a father, a mother, a boy, and a postman.
Cartoon: A boy tries to count to twenty while playing with a paddleball, but gets interrupted by a bird.
Ernie and Bert: Ernie brings an umbrella, a flashlight, and a bowling ball to the bathtub, just in case the electricity goes out, the roof leaks, and somebody shows up asking to borrow a bowling ball. Bert thinks that Ernie is being ridiculous -- but everything happens, just as Ernie predicted.
Hubley animation: A black cat chases after a white bird, until a white lion steps in.
Cartoon: Gloria, a rambunctious little girl, tries to sing the Alphabet Song as an unseen person directs her.
Cartoon: "Count Up Elevator" -- An elevator operator stops at ten floors to pick up passengers, including a witch, a fireman, and a kangaroo. The tenth passenger, a mouse, causes the elevator to overload and explode. (First: Episode 0003)
Cartoon: A Gary Owens-voiced man attempts to discuss the letter I, but is jeered by an offscreen voice. The man uses him as an example of the word "impolite". (First: Episode 0032)
Hubley animation: Small v ... for voom, voice, violin, etc. (EKA: Episode 0167)
Cartoon: "Imagination V" -- A surreal segment involving the Venus de Milo statue, a violin, a vampire, and vigilantes, among other things beginning with V. (First: Episode 0050)
Cartoon: Two men, one named Virgil Veep, discuss the letter V as they stand atop a capital V. (First: Episode 0110)
Remembering Game (2 parts)
Ad blocker interference detected!
Wikia is a free-to-use site that makes money from advertising. We have a modified experience for viewers using ad blockers

Wikia is not accessible if you've made further modifications. Remove the custom ad blocker rule(s) and the page will load as expected.