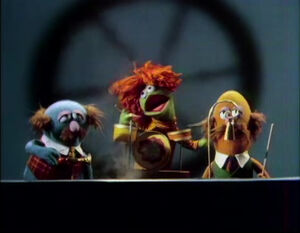 Cartoon: A Gary Owens-voiced man attempts to discuss the letter I, but is jeered by an offscreen voice. The man uses him as an example of the word "impolite". (First: Episode 0032)
Some Muppet kids get ready to play baseball. Most bring the right equipment but one brings a hockey stick. They try again, but this time one has a tennis racket. On the third attempt, one has a box, which you don't need to play baseball either. But the box has a baseball in it.
Anything Muppet hippies sing "Surprise."