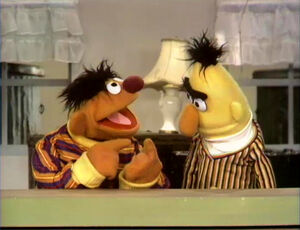 Flip Wilson shows how his teacher, Miss Johnson, taught him the ABCs.
Ernie and Bert: Bert asks Ernie about his day. Ernie doesn't think anything interesting happened. Bert points out that Ernie went to the zoo, but Ernie says nothing interesting happened at the zoo. Then he talks about a scratch he got on his finger, and talks about how he got it, realizing in the process that something interesting did happen after all. (First: Episode 0020)
Ad blocker interference detected!
Wikia is a free-to-use site that makes money from advertising. We have a modified experience for viewers using ad blockers

Wikia is not accessible if you've made further modifications. Remove the custom ad blocker rule(s) and the page will load as expected.