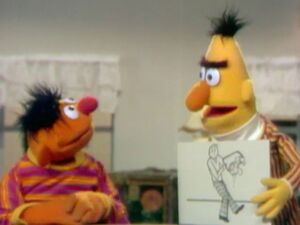 Oscar the Grouch is happy to see the viewers for a change, because he is having a grand opening sale at the Oscar's Odds and Ends Store. He is selling dandy things like half a record, broken flower pots to put dead plants in, and a comb with only one tooth. Susan walks by and Oscar compliments her dress and says he has the perfect necklace to go with it--a bicycle chain. He shows Gordon more of his wares, including back issues of The Daily Grouch, and a knob for a color television set--all you have to do is add the color television set.
New York Knicks Miss on #5
Oscar learns he needs to use addition when running a store.
Bill Cosby has a hard time trying to count four kids.
Susan comes back to Oscar's store to buy the flower pots, but finds a sign saying that he is out of business. He has learned that to run a store, you have to be open and wait on people when you'd rather be doing something else, and you have to learn to count and add to know how much money you made, but worst of all, you have to be helpful and courteous to people! What kind of a grouch would he be if he did that? So he is out of business forever.
Film: Water water water water... Look at all the water. There's water everywhere.
Bert's What Happens Next Game: Bert shows Ernie pictures, and he needs to tell what happens next in each one. Ernie tells Bert some very imaginative stories. For the last picture (a man about to drive his car over a nail), Ernie says, "I think a monster's going to appear". Sure enough, behind Bert's back, Cookie Monster appears: "Can I have a cookie?"
(First: Episode 0056)
Ernie tells Cookie Monster to hide, and when he hears a bell, come out and play the flute. Cookie asks for payment and receives a whole box of cookies. Bert comes and Ernie asks him what happens when you shake a little bell. Bert answers that the bell rings, and that's all. Ernie says that he always thought that when the bell rang, a monster appeared playing a flute. Bert disagrees, and shows Ernie by ringing the bell. Nothing happens. After Bert is gone, Ernie asks Cookie what happened, and he replies that he can't play the flute with a mouth full of cookies.
Cartoon: Poverty U (repeat)
Spanish vocabulary: calle
New York Knicks miss on 12
Bill Cosby demonstrates surprise
New York Knicks miss on 20