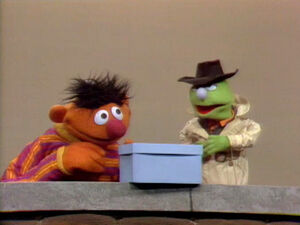 Oscar the Grouch has a poem-writing machine. It rhymes "glad" with "mad" and "feel so bad," and it rhymes "hello" with "don't know" and "go".
Lefty the Salesman wants to sell Ernie an empty box, explaining that he can fill the box with things like a pet mouse (if Ernie had one) and jellybeans (if they rained from the sky). Ernie wants an empty box, but doesn't have any money. However, Bert brings a box of cookies, and Ernie throws the cookies out so he can catch jellybeans from the sky. (First: Episode 0081)
Flip Wilson shows how his teacher, Miss Johnson, taught the ABCs.
Cartoon: A short poem about a pirate and his puppy demonstrate the letter P. (First: Episode 0059)
Cartoon: Poverty Z. A salesman tries to sell a Z. His customer stops the hard sell by locking the salesman in a zoo cage. (First: Episode 0085)
Susan and the kids play a game thinking of words in the -un family.
Guy Smiley sings "Gone with the Wind" to a young woman. During the song, a very strong wind blows – making the leaves fly off the tree, causing the woman's house to collapse, and finally ripping Guy's clothes off. (First: Episode 0034)
Ad blocker interference detected!
Wikia is a free-to-use site that makes money from advertising. We have a modified experience for viewers using ad blockers

Wikia is not accessible if you've made further modifications. Remove the custom ad blocker rule(s) and the page will load as expected.