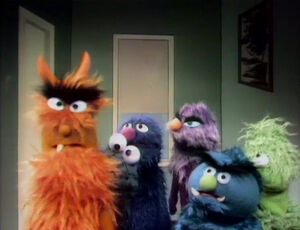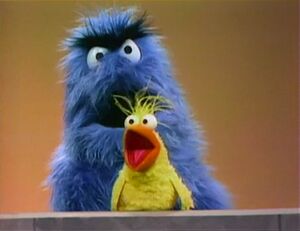 Gordon builds the window box.
An Anything Muppet demonstrates empty by leaving his room, soon Grover and his friends, including Cookie Monster, occupy the room making it full.The Anything Muppet comes in and scares the monsters away leaving it empty.
Gordon and the kids talk about shapes using the scraps of wood left over from the window box.
Kermit's Lectures: Kermit gives a lecture about rectangles. Cookie Monster smashes the shape, but says it'll still work out: "It's a wreck -- and it's a tangle! (First: Episode 0017)
Little Bird plays an imagination game, closing his eyes and imagining he hears sounds. At the end of the game, he imagines that he hears a scary monster -- and when he opens his eyes, Herry Monster is there, growling at him.
Ernie talks about what happens next when he throws a rubber ball, a glass and a watermelon over the wall.
The Op Family: mop, drop, hop, flop, and stop.
Cartoon: A man uses a ladder to climb up to the top of a capital L. (First: Episode 0031)