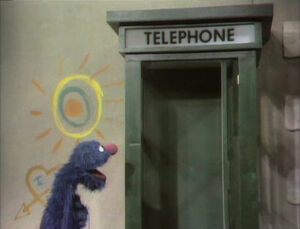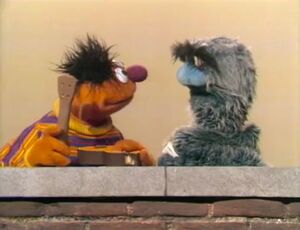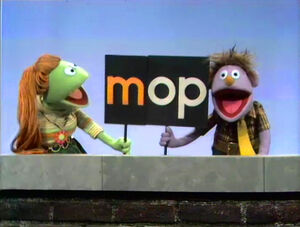 Mr. Hooper makes a sign, so if the person who lost the ribbon passes his store they will know what to do.
Cartoon: "Imagination O" -- A surreal story about a boy, a goat, and a bulldozer that closes up a hole in a cloud that blows the cold. (First: Episode 0011)
Cartoon: A fisherboy catches all the letters of the alphabet and makes alphabet soup. (First: Episode 0004)
Tag: Tim Conway says "There was something fishy there."
Broken Ukelele, Part 1: Ernie Ernie encounters a sobbing Beautiful Day Monster, who is crying because his ukelele is broken. Ernie shows him a few things one can do with a broken ukelele, but that doesn't stop the monster from crying. Ernie then offers to fix the ukelele. (First: Episode 0080)
Broken Ukelele, Part 2: Ernie brings back the ukelele, all fixed. And what does the monster do? He eats it! (First: Episode 0080)
Gordon leaves Hooper's Store with a soda, and Mr. Hooper remembers just in time to give him his package. Mr. Hooper is glad he remembered, and asks the kids what he would do if he hadn't remembered in time. He would call Gordon on the telephone.
Grover uses a telephone booth to explain how a telephone is used. When he enters the booth, however, he finds that there is no phone in sight. An Anything Muppet boy arrives to use the telephone, and thinks that Grover is the telephone since he is the only thing he found in the booth. The boy proceeds and talks into Grover's mouth.
Two brothers, First and Last, sing about how their names affect how they do things.