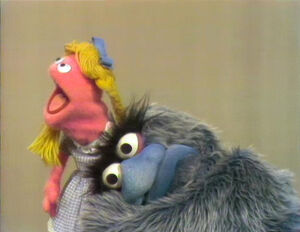 Gordon comments to the kids that he would get angry if he ever lost his Rs, and asks the kids what happens when they get angry. Oscar interrupts because he thinks he can get angry better than the kids can. They have a competition to see who is better at frowning, growling, and yelling. Oscar actually gets angry because they didn't ask him, the expert, about being angry. He gnashes his teeth, which makes him feel tip-top.
Cartoon: R is for Rooster, and Robber, and Rake. Artist: Fred Calvert (First: Episode 0011)
Gordon, Susan, Bob, Mr. Hooper, and Oscar demonstrate the -ig words fig, pig, twig, jig, and wig.
Film: A group of kids play follow the leader and go over, around and through various obstacles, but one of them takes a while to catch on. (First: Episode 0001)