Ad blocker interference detected!
Wikia is a free-to-use site that makes money from advertising. We have a modified experience for viewers using ad blockers

Wikia is not accessible if you've made further modifications. Remove the custom ad blocker rule(s) and the page will load as expected.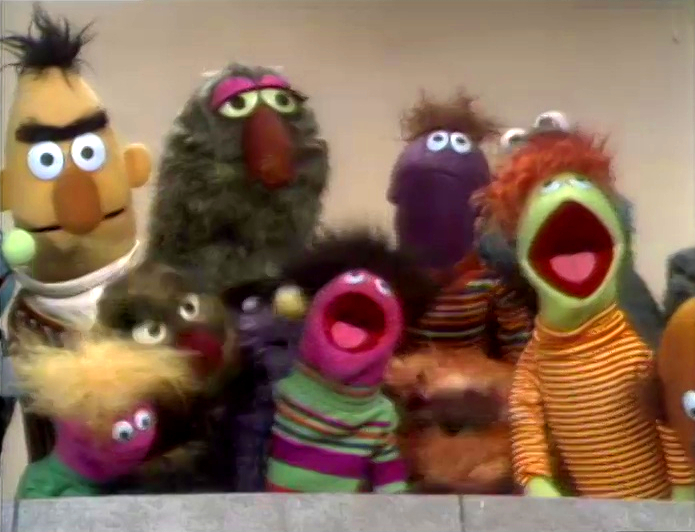 Gordon shows the kids a square and a triangle by folding a piece of paper in half.
A male voice narrates a story of a jazzy triangle who loved to dance, and a square square. The triangle likes being flexible, but the square would rather be stiff and *square*. (First: Episode 0007)
Cartoon: A Gary Owens-voiced man attempts to discuss the letter I, but is jeered by an offscreen voice. The man uses him as an example of the word "impolite". (First: Episode 0032)
Susan shows the kids pictures of words in the IG family: big, dig, pig, wig
Ernie and Bert: Ernie eats one of the two pieces of chocolate cake that Bert was saving for their dessert. Bert sees Ernie holding a fork in one hand and a napkin with some chocolate on it in the other--and in front of him is a plate full of chocolate-cake crumbs. When Bert accuses Ernie of eating the cake, Ernie tells Bert that a monster came in, ate Bert's cake, and framed Ernie. Bert doesn't believe Ernie's lie. But when Bert leaves the room, Beautiful Day Monster comes in and does exactly what Ernie told Bert happened to the first piece. Ernie tries to explain, but Bert says, "I don't want to talk about it." (First: Episode 0119)
A group of Anything Muppets enter, with one saying, "Some of us are here, but not all." They leave, and say that now none of them are there. They re-enter with a few more, saying that some of them are there but not all, and leave again, saying that none of them are there. Many Muppets appear, including Bert, Grover, Scudge, Fred's son, Oscar and Cookie Monster, who all say, "Now we are all here!" (First: Episode 0061)