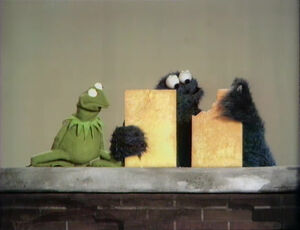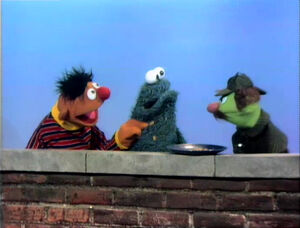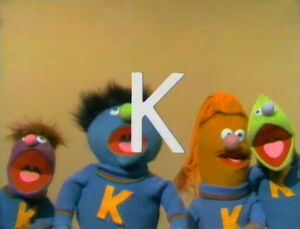 Susan is thinking about things that are the same and things that are different. She says that when she comes back out of her apartment, there will be something different about her.
Susan comes out of her apartment wearing pants. Her clothes are different, but she is still the same person. Oscar the Grouch tells her she looks lovely. She asks him whether he feels all right, and he says he thought it would be fun to be different, too. They continue their pleasantries, and Gordon comes along, also surprised at Oscar's polite behavior. Oscar says he must leave now, because he promised to take some little children to the zoo, and he mustn't keep the little darlings waiting.
Oscar takes kids to the zoo
Girls play a jump rope alphabet game: "I've got an A in my ankle, I've got a B in my back," etc. A boy wants to play, but one of the girls says the game is for girls only. Finally, when he contributes "I've got a Z in my zebra," one of the girls says he can play.
K is for kettle, kick, kite and kitten
Spanish vocabulary: ven aquí