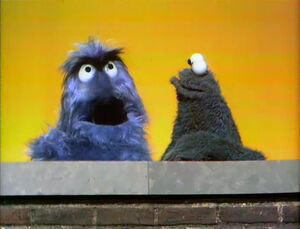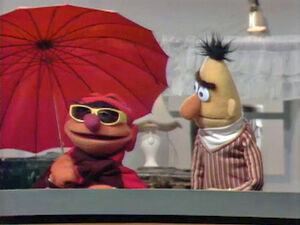 Gordon shows that when you put a salt shaker and a pepper shaker together, you have a pair of shakers.
Film: Animal Pairs, including monkeys, tigers, geese, and baby hydraxes.
Father and son Anything Muppets take a walk in the woods. The father pretends to be the son, asking questions and climbing trees, while the son pretends to be the father, helping out and explaining things. (First: Episode 0089)
Mr. Hooper and the kids sort pictures of a family by gender and age.
Bob and the kids draw pictures of flowers. Each flower is different, but they are all flowers.
Ernie and Bert: Ernie explains to the audience how people have two of everything: "two eyes, two ears, two hands, two noses..." "Wait a minute, you ding-a-ling!" Bert interrupts. "People don't have two noses!" Ernie promptly pulls Bert's nose off, sticks it to his own face, and keeps counting. "Two noses, two hands, two ears, two eyes ... too bad!" (First: Episode 0061)