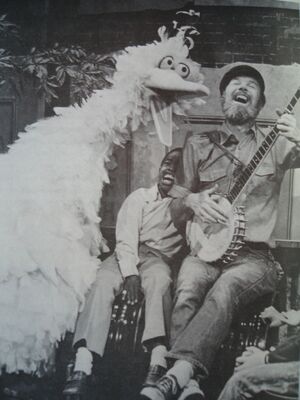 Susan introduces Pete Seeger who is visiting the street for the day because his car had a busted chain so he is waiting for the garage to fix it. Pete says he has a song that is like a chain, where each verse leads to another. He sings "The Old Lady Who Swallowed a Fly".
N – Negative Talking Crow
Mr. Hooper brings everybody sodas and asks Pete where he learned all those songs. Pete compares them to a chain, because he learned them from people who learned them from other people. He sings the Woody Guthrie song "Why Oh Why"
One of the kids is sad because the chain fell off his bicycle. Pete says he has a chain, but Gordon says a bicycle is smaller than a car, so it needs a smaller chain. He takes the kid to the repair shop, while Pete sings a song about a bicycle: "Daisy Bell (Bicycle Built for Two)"
Pete teaches hambone to Gordon and the kids
ET Family Quick Cuts: A man tries to show the 'et' family. He tells the S to come set, he's not done yet.