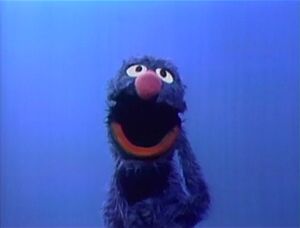 Gordon welcomes everyone to Calle Sesame. As Big Bird enters, Gordon asks if we know what is going to happen next on Sesame Street. When Big Bird hears the word "next" he says he's been dreaming up a poem about the word. He recites the poem and has the kids finish his rhymes.
Film: Sounds—including rooster, sheep, cows, ducks, geese, and silence.
Kermit's Lectures: Kermit the Frog tries to present a lecture about the letter B, but Cookie Monster eats the bottom of the B and turns it into an R. Kermit talks about the R, but then Cookie Monster snacks some more, and makes it a P. Kermit tries to go on, but the monster keeps eating, making it into an F, and then an I, and then "a dessert" as he eats the rest of it. Kermit chides Cookie Monster for ruining his lesson. Cookie Monster gives Kermit a kiss, then exits. (First: Episode 0006)
Susan and Mr. Hooper see a Bus Stop sign on Oscar the Grouch's can. They ask him what it is doing there, and that he cannot expect a bus to stop on the sidewalk. Oscar says he wouldn't want his friend Julius to go out into the street. Julius is a worm, and he is waiting there on the sidewalk for the bus (don't step on him!). The worm bus picks up Julius and drives away.
Grover talks about front and back, but whenever Grover wants to talk about front, the camera suddenly cuts to a shot of his back, and whenever he wants to talk about back, the camera cuts to a shot of his front.