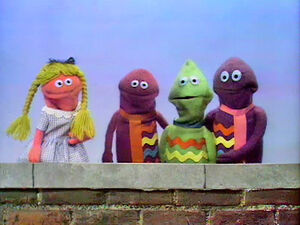 Gordon notices that the garage could use a new coat of paint. Mr. Hooper agrees, but says it will have to wait, because he is too busy with the store right now to paint it. Gordon says he will paint it, after all it is his garage. Mr. Hooper tells him to go look at his deed—the garage goes with the store, not with 123 Sesame Street.
Gordon gets Susan to come out and tell Mr. Hooper whose garage it is. She says it belongs to Mr. Hooper.
Betty Lou teaches the meaning of "beginning", "middle", and "end", and introduces two of her friends: Beginning and End. The duo tell a story, but it lacks something in between the beginning and end parts. Beginning and End recruit their pal Middle to fill out the rest of the story. Middle, however, cannot stop telling the exciting part of the story, and the three friends begin a quarrel, forcing Betty Lou to declare the end of the lecture.
Ernie and Bert: Bert and Ernie try to figure out who owns a cabinet containing cookies. Bert says that the cabinet is his, because he has his first initial, B, on the door. However, the B is spread between two doors, and Ernie opens one door, making the other look like an E. (First: Episode 0019)