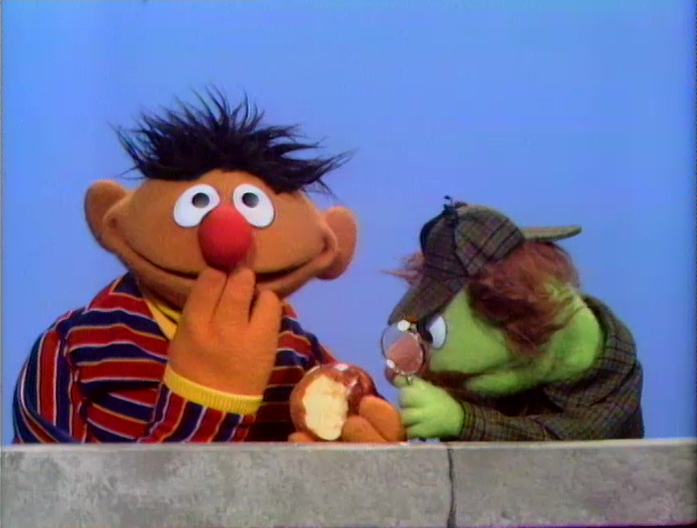 Film: Kids paint various things that begin with the letter B on a window. (First: Episode 0008)
Film: Making a train engine
Ernie and Bert: Bert attempts to go under Ernie's umbrella while it's raining however; Ernie pushes Bert away from the umbrella every time he explains how the rain can make him feel happy, sad, and angry. Bert agrees with Ernie when he mentions angry because it turns out Ernie has Bert's umbrella. Ernie leaves holding Bert's umbrella without Bert who is left soaking in the rain.
Bob and Oscar the Grouch discuss anger. Oscar says that while he is often grouchy, he never loses his temper. Bob insists that even Oscar sometimes gets angry. As they argue about this, Oscar gets progressively angrier.
Bob carves a pumpkin and asks the kids what they like most about Halloween. Then they find different shapes in the jack-o-lantern's face.
The word "on" demonstrated with a sandwich. The bread is on the breadboard, the mustard is on the bread, the ham is on the mustard, etc.
Ernie finds an apple on a brick wall, and wants to know who it belongs to. Sherlock Hemlock helps solve the mystery, and realizes that Ernie has a brown paper bag with a hole at the bottom, and that Ernie had an apple in the bag, therefore the apple belongs to Ernie.
Spanish words: puerta, adios.