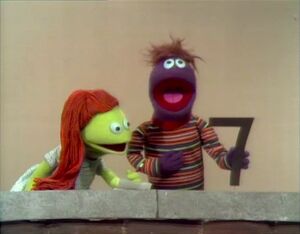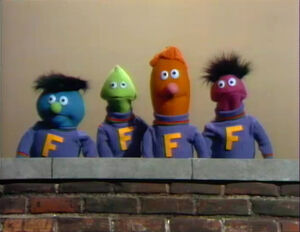 Gordon is helping a kid write the words "Sesame Street" when he overhears Oscar the Grouch sneezing. Oscar says it's not even fun being a grouch when you have a cold, so Gordon, Susan and Bob go look for things to make Oscar feel better.
Cartoon: "Poverty F" -- a man tries to remember a word beginning with the letter F, and another man lists as many words as he can think of to help him. (First: Episode 0128)
Susan takes Oscar's temperature, and tells him to watch this film about a sailing ship while they wait for the thermometer to be done
Bob finds a book of knock knock jokes to tell Oscar, and Gordon brings tissues and orange juice.
Susan reads a book called "I Am a Hunter" to Oscar and the kids
Cartoon: A sprightly seal tells the story of six silly sailors who split up on a see-saw. (First: Episode 0002)
Bob teaches that "mano" is Spanish for "hand," and finds clothing for a mano.
Bob and the kids talk about things you can do with your hands—clap, snap, fold them, count on them.
Pete Seeger sings "Heave Away Haul Away," "There Was a Cottage," "Sailing Up My Dirty Stream," and "Skip to My Lou"
Cartoon: Superman tells why S is his favorite letter.
Bill Cosby tells his young friends a story that involves "over" and "under". He mixes the words up, and the kids correct him.