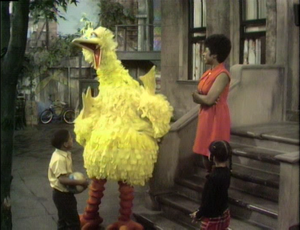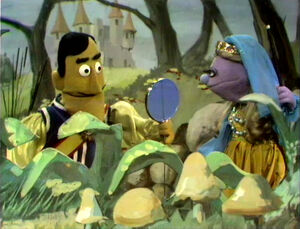 Oscar the Grouch sings Three of These Things Belong Together with a rancid sneaker, a tattered glove, a messed up sock, and a nice hat. Oscar tells Gordon and the kids that the hat is the answer, but it won't be nice for long, because he's going to stick it in his egg beater and pour motor oil on it.
Kermit talks about the letter F. He wanted an F, but someone sent him an E. A monster asks what the difference is between E and F, and then solves Kermit's problem by eating the bottom line of the E so Kermit can talk about F. (EKA: Episode 0033)
Big Bird learns about the Spanish word "adios", and is anxious to say it. He patiently waits all day while everyone tells him that it's too early to say it. When it's finally time (at the end of the episode), he repeats the word, shouting it everywhere.
Tony sings The Beatles song "Help!" because his date can't go to the dance tonight and he needs someone to go with.
New York Mets miss on number 11
Gordon asks the kids what words you can make by adding a letter before –an.
A fairy godmother turns Cookie Monster into a handsome prince. He thinks it's ugly, and uses the wand to change her into her original form, Herry Monster wearing a wig. As monsters, they fall in love.
F is for feather, flower, fish, finished, and funny.
Cookie break: matching a pair of cookies.
Charlie is lost and finds a policeman. It's his Uncle Louie, but he doesn't recognize him in uniform. Without the uniform on, Charlie asks Uncle Louie to find him a policeman.
Alphabet O'Malley: Arnold Byron Charles David Edward...
Notes
Sources
Mandel, Jennifer. "The Production of a Beloved Community: Sesame Street's Answer to America's Inequalities." The Journal of American Culture. Volume 29, Issue 1. 2006.