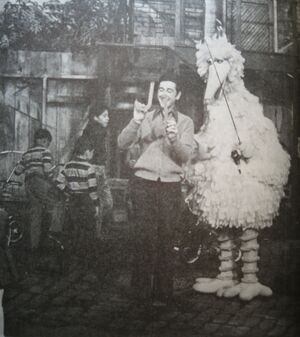 Bob wants to talk about the letter J. He has a capital J, but he puts it down for a minute to go get a small j. Meanwhile, Big Bird comes out of the garage with a fishing pole, looking for a hook. He sees the capital J and attaches it to his line. Bob returns with the small j, but leaves it for a minute to go looking for the capital J he left there. Big Bird comes back and puts that one on his line too. Bob comes back and asks Big Bird for help finding his Js, and finds them on Big Bird's fishing line. After Bob explains the letter J, he tells Big Bird he won't catch any fish with the letter J. Big Bird says he'll go fishing for letters, instead.
Cartoon: A boy goes fishing
Oscar the Grouch tells Susan and the kids that he is not afraid of anything. Not even an alligator or a lion. Then they hear thunder and Oscar wants Susan to hold his paw.