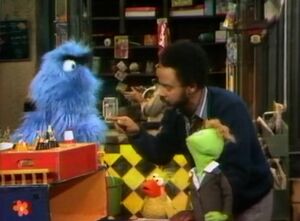 Gordon shows four of things: fingers, kids, comic books, and car horns.
Mr. Hooper sorts pieces from games. He has a city game and a country game, and the pieces got mixed up. The barn and the tractor go in the country, while the taxi goes in the city. Dogs are found in the city and the country...maybe the dog should go in the city because there are already two pieces in the country. No, the dog has no leash, and likes to run around, so we'll put him in the country.
Gordon discusses size. Little Bird is big, a green Anything Muppet is bigger, and Herry is the biggest. But not bigger than Windy...
Mr. Hooper shows regular sized apple, and big, bigger, and biggest apples.
Gordon explains how money works by purchasing an apple from Mr. Hooper. He and Susan work hard at their jobs. They get paid for working, and they get their money and use it to buy things they need. When Gordon buys an apple from Mr. Hooper, now Mr. Hooper has money to buy the things he needs. Gordon laments that the only problem is, when you're a teacher sometimes you don't have enough money. Mr. Hooper sympathizes: "Ah, that's a big trick for anyone, Gordon."
Cartoon: A man creates an avalanche on the letter A.
Cartoon: A is for apple, ant, arrow, archer, and ankle.