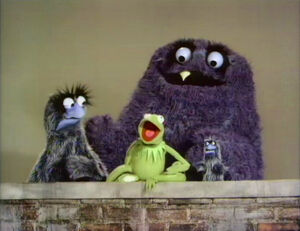 Animation: "E Imagination": A surreal story of a boy eating a peach atop an eagle witnesseing a queen on her knee, dreaming of eating ice cream in a land of steam. (First: Episode 0001)
Ernie tries to help a mailman deliver a letter to Mrs. Mary Ann ABCDEFGHIJKLMNOPQRSTUVWXYZ. (First: Episode 0038)
Kermit's Lectures: Kermit tries to demonstrate what round is, with the help of a wisecracking ball. He introduces Kermit to his "daddy," a scary-looking basketball. (First: Episode 0107)
Cartoon: "Poverty F" -- a man tries to remember a word beginning with the letter F, and another man lists as many words as he can think of to help him.
Cartoon: A self-proclaimed "handsome" fly (voiced by Casey Kasem) is indignant about appearing in a segment about the letter F with a "fat and ugly" frog. The frog solves the problem by eating the fly. (First: Episode 0034)
Bob and Gordon assemble a large "E" out of two separate pieces. (First: Episode 0005)
Cartoon: Dot Bridge (last dot is late and travels through the others) (First: Episode 0001)
Ad blocker interference detected!
Wikia is a free-to-use site that makes money from advertising. We have a modified experience for viewers using ad blockers

Wikia is not accessible if you've made further modifications. Remove the custom ad blocker rule(s) and the page will load as expected.