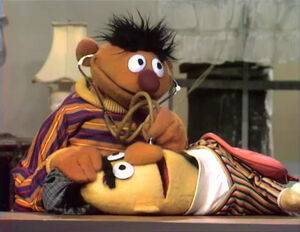 Ernie and Bert: Ernie asks Bert to go play in the park with him. When Bert says no, Ernie wonders if he isn't feeling well and starts to examine him.
Film: Two men, Big and Little, travel around playing the tuba and violin. Even though they're different (Big has dark skin, and Little has light skin), together they make beautiful music. (First: Episode 0016)
Ernie, dressed in his football uniform, marches around the apartment reciting his team chant. He tells Bert he's a member of the Dirty Rugs, named such because everyone beats them. (First: Episode 0009)
Ad blocker interference detected!
Wikia is a free-to-use site that makes money from advertising. We have a modified experience for viewers using ad blockers

Wikia is not accessible if you've made further modifications. Remove the custom ad blocker rule(s) and the page will load as expected.