Ad blocker interference detected!
Wikia is a free-to-use site that makes money from advertising. We have a modified experience for viewers using ad blockers

Wikia is not accessible if you've made further modifications. Remove the custom ad blocker rule(s) and the page will load as expected.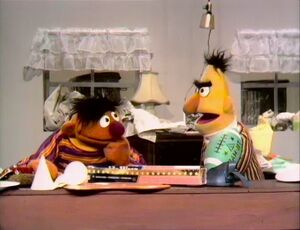 An Anything Muppet girl goes shopping, but has trouble trying to remember what she needs to buy. Her mother helps her come up with a way to remember.
Film: "Head to Toe Puzzle": Two kids put together a puzzle of a boy. (First: Episode 0024)
Ernie and Bert: Part 1: Bert tells Ernie to clean up the messy apartment. Part 2: Ernie has finished cleaning up the apartment, but the toy chest is still a mess, so he throws toys all over the place. (First: Episode 0010)
Film: Different kinds of wheels are shown and what they're used for. (First: Episode 0013)
Cartoon: Two boys notice a D, saying it looks fat. A resonant voice (Gary Owens) informs them that it's the letter D. This leads to a jazzy story about a dog who digs for dice, wins a duck, and buys a dinosaur with a dime. Moral: "If you dig a dinosaur, drop your duck for a dime." (First: Episode 0016)
Cartoon: A small man and his assistant Dudley attempt to demonstrate both the capital and lower-case letter D. (aired twice) (First: Episode 0016)
Cartoon: "Poverty X"--A figure explains how X is used at the end of words. (aired twice) (First: Episode 0006)
Cartoon: An octopus one-man band helps viewers learn how to count to ten. (First: Episode 0004)