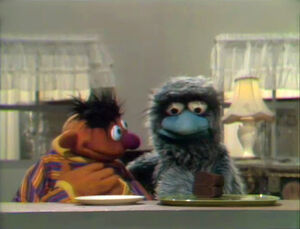 Ernie and Bert: Ernie eats one of the two pieces of chocolate cake that Bert was saving for their dessert. Bert sees Ernie holding a fork in one hand and a napkin with some chocolate on it in the other--and in front of him is a plate full of chocolate-cake crumbs. When Bert accuses Ernie of eating the cake, Ernie tells Bert that a monster came in, ate Bert's cake, and framed Ernie. Bert doesn't believe Ernie's lie. But when Bert leaves the room, Beautiful Day Monster comes in and does exactly what Ernie told Bert happened to the first piece. Ernie tries to explain, but Bert says, "I don't want to talk about it."
Film: Kids paint various animals that begin with "P" on a window.
Film: A girl named Jennifer visits family friend Mrs. Wilson in the country, and together they pick food from her garden. (First: Episode 0021)
Kermit's Lectures: Cookie Monster drinks both of Kermit's glasses of milk, which he was going to use to explain "more" and "less". When Kermit insults Cookie Monster, several of Cookie Monster's monster pals gang up on Kermit, prompting him to point out that now there are more monsters and less frogs. (First: Episode 0004)
Cartoon: A Gary Owens-voiced man attempts to discuss the letter I, but is jeered by an offscreen voice. The man uses him as an example of the word "impolite". (aired twice) (First: Episode 0032)
Cartoon: "Poverty U" -- A figure gives a salute to the letter U, and presents the letter with a bouquet of flowers. (aired twice) (First: Episode 0036)
Film: "What if you were magic, and could make things stop just by telling it to, or make it go backwards? Stop! Then you could see what things look like when they're moving. Go forwards! Stop! Well, film is magic, and this is a film, so you can be magic for three minutes. Like this: Go slow, water fountain! Now, you try it." (First: Episode 0047)
Ad blocker interference detected!
Wikia is a free-to-use site that makes money from advertising. We have a modified experience for viewers using ad blockers

Wikia is not accessible if you've made further modifications. Remove the custom ad blocker rule(s) and the page will load as expected.