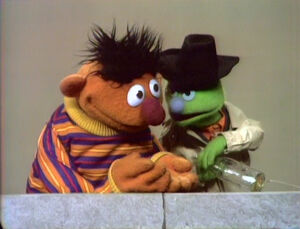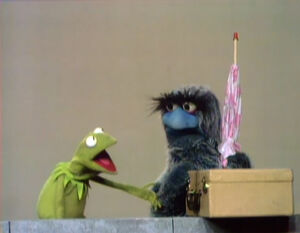 Lefty the Salesman sells Ernie some air, but when Ernie waves to Bert, wanting to show it to him, he drops it. According to Bert (who didn't know what Ernie had), "It couldn't have vanished into thin air." But Ernie sobs, "Yes, it could, Bert! It could!"
Kermit's Lectures: Kermit talks about clues. He shows that a boy has grown some carrots because he has garden tools, a watering can, and a packet of seeds. Next, he confirms that a man has built a birdhouse because of his blueprints and carpenter's tools. When he notices Beautiful Day Monster with a suitcase and an umbrella, Kermit assumes that the monster is going on a trip and using the umbrella as protection from the rain. The monster corrects him; he's planning to eat his umbrella, and uses the suitcase to carry the ketchup he'll use to eat it with.
Film: Different parts of a flower are shown as Vivaldi music plays. (First: Episode 0008)
Kermit's Lectures: Kermit and Cookie Monster demonstrate what it is to be happy, angry and sad. Kermit gets angry when Cookie Monster eats the happy face that Kermit provided, Cookie Monster feels sad when Kermit threatens to tell Cookie's mommy what he did, and that makes Kermit happy because he was able to do his demonstration without the tasty Styrofoam faces. (First: Episode 0066)
"Triangle and Square": A male voice narrates a story of a jazzy triangle who loved to dance, and a square square. The triangle likes being flexible, but the square would rather be stiff and *square*. (First: Episode 0007)
Cartoon: A Gary Owens-voiced man attempts to discuss the letter I, but is jeered by an offscreen voice. The man uses him as an example of the word "impolite". (First: Episode 0032)
Cartoon: A short poem about a pirate and his puppy demonstrate the letter P. (First: Episode 0059)
Cartoon: "Poverty U" -- A figure gives a salute to the letter U, and presents the letter with a bouquet of flowers. (First: Episode 0036)
Ernie and Bert share jellybeans. Ernie has six jellybeans, and Bert has seven. Bert thanks Ernie for giving him the extra jellybean. Ernie says that isn't fair -- they should have an equal amount. To make it even, Ernie eats the extra jellybean. That's fair, isn't it? (First: Episode 0014)
Ad blocker interference detected!
Wikia is a free-to-use site that makes money from advertising. We have a modified experience for viewers using ad blockers

Wikia is not accessible if you've made further modifications. Remove the custom ad blocker rule(s) and the page will load as expected.