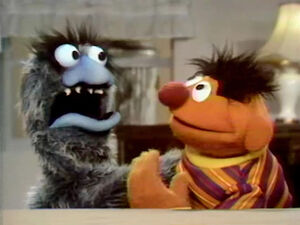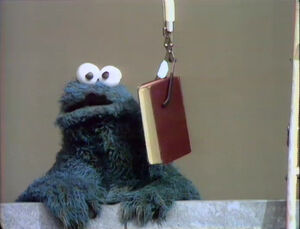 Odetta makes a cameo appearance.
Cookie Monster: After watching the "eggs and cookie" film, Cookie Monster demands a cookie. A mysterious talking hook appears from the sky, and responds by giving him a book instead. Cookie is surprised, "This not cookie...this BOOKIE!" He then exchanges the book for lots of cookies, which rain on him.
Film: Three boys (including Brian Henson) pretend to be steam shovels, playing in the dirt. This segues into footage of real construction vehicles. A parallel is drawn between the machinery and how the boys' arms and mouths work. (First: Episode 0003)
Ernie and Bert have difficulty scratching their backs, so both help each other scratch their back. While Ernie's itch takes a little too long to scratch, he introduces a film called "Everybody Scratch". After the film, Ernie notices that Bert has stopped scratching his back; Beautiful Day Monster is. (First: Episode 0012)
Sesame Street Animal Films: "Rockabye Baby" is sung to a sleepy koala. (First: Episode 0048)
Cartoon: "Egg Chant": A girl skips rope and says the alphabet as a boy sits with an egg on his knee; the egg hatches, and a dancing lizard comes out. (First: Episode 0003)
Cartoon: A Gary Owens-voiced man attempts to discuss the letter I, but is jeered by an offscreen voice. The man uses him as an example of the word "impolite". (First: Episode 0032)
Cartoon: A short poem about a pirate and his puppy demonstrate the letter P. (First: Episode 0059)
Cartoon: "Poverty U" -- A figure gives a salute to the letter U, and presents the letter with a bouquet of flowers. (First: Episode 0036)
Ad blocker interference detected!
Wikia is a free-to-use site that makes money from advertising. We have a modified experience for viewers using ad blockers

Wikia is not accessible if you've made further modifications. Remove the custom ad blocker rule(s) and the page will load as expected.