Ad blocker interference detected!
Wikia is a free-to-use site that makes money from advertising. We have a modified experience for viewers using ad blockers

Wikia is not accessible if you've made further modifications. Remove the custom ad blocker rule(s) and the page will load as expected.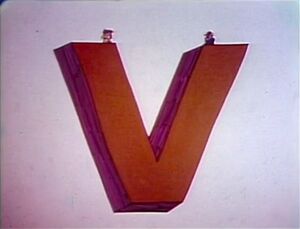 A hippie lines up a group of monsters to demonstrate first and last, but Grover doesn't want to be last in line. The hippie compromises and lets him be first... but the line keeps changing directions.
Ernie and Bert: Bert and Ernie try to figure out who owns a cabinet containing cookies. Bert says that the cabinet is his, because he has his first initial, B, on the door. However, the B is spread between two doors, and Ernie opens one door, making it look like an E. (First: Episode 0019)
Ernie and Bert: Bert asks Ernie about his day. Ernie doesn't think anything interesting happened. Bert points out that Ernie went to the zoo, but Ernie says nothing interesting happened at the zoo. Then he talks about a scratch he got on his finger, and talks about how he got it, realizing in the process that something interesting did happen after all. (First: Episode 0020)
Animation: "E Imagination": A surreal story of a boy eating a peach atop an eagle witnesseing a queen on her knee, dreaming of eating ice cream in a land of steam. (First: Episode 0001)
Bob and Gordon assemble a large "E" out of two separate pieces. (First: Episode 0005)
Cartoon: "Imagination V" -- A surreal segment involving the Venus de Milo statue, a violin, a vampire, and vigilantes, among other things beginning with V. (First: Episode 0050)
Cartoon: Two men, one named Virgil Veep, discuss the letter "V" as they stand atop a capital V. (First: Episode 0110)
Cartoon: A worm declares that the word "worm" is the only important word that begins with "W". A walrus retaliates by dumping a bucket of water on the worm. (First: Episode 0001)
Countdown series: After the countdown, water comes out of the rocket and splashes everyone. (First: Episode 0022)
Countdown series: The rocket successfully launches as everyone celebrates. (First: Episode 0042)