Ad blocker interference detected!
Wikia is a free-to-use site that makes money from advertising. We have a modified experience for viewers using ad blockers

Wikia is not accessible if you've made further modifications. Remove the custom ad blocker rule(s) and the page will load as expected.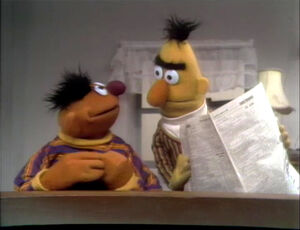 Cartoon: Poor Solomon Grundy washes a different part of the left side of his body every day, but at the end of the week, "he's still half dirty!" (First: Episode 0001)
Ernie and Bert: Bert and Ernie try to figure out who owns a cabinet containing cookies. Bert says that the cabinet is his, because he has his first initial, B, on the door. However, the B is spread between two doors, and Ernie opens one door, making it look like an E. (First: Episode 0019)
Animation: "E Imagination": A surreal story of a boy eating a peach atop an eagle witnesseing a queen on her knee, dreaming of eating ice cream in a land of steam. (First: Episode 0001)
Cartoon: "Imagination V" -- A surreal segment involving the Venus de Milo statue, a violin, a vampire, and vigilantes, among other things beginning with V. (First: Episode 0050)
Film: A talking tree tells a boy about the difference between here and there, near and far, and close and next to.