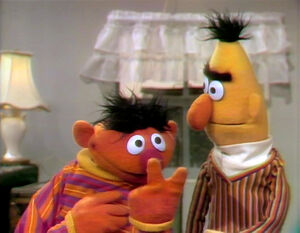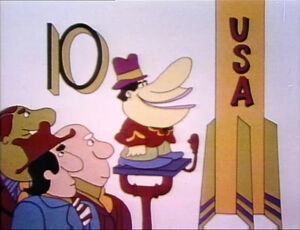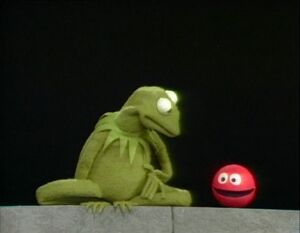 Kermit's Lectures: Kermit tries to demonstrate what round is, with the help of a wisecracking ball. He introduces Kermit to his "daddy," a scary-looking basketball.
Ernie and Bert: Ernie proclaims to be the world's greatest counter, yet he counts very slowly, and starts all over again if Bert interrupts him. This slowly drives Bert insane.
Guy Smiley sings "Gone with the Wind" to a young woman. During the song, a very strong wind blows – making the leaves fly off the tree, causing the woman's house to collapse, and finally ripping Guy's clothes off. (First: Episode 0034)
Film: "ROUND" -- A live-action film shows circles in everyday life, from Coca-Cola bottle caps, to moving wheels, to yo-yos, bubbles, and balloons, set to a lively soundtrack. (First: Episode 0002)
Lefty the Salesman wants to sell Ernie an empty box, explaining that he can fill the box with things. Ernie wants an empty box, but doesn't have any money. However, when Bert brings a box of cookies, Ernie throws the cookies out, gaining an empty box. (First: Episode 0081)
Ernie demonstrates the word quart and uses a quart of milk ; Cookie Monster drinks the quart of milk. (First: Episode 0047)
Ernie and Bert: Ernie gets Bert to play a game with him, in which he says "I one the sandbox", Bert says "I two the sandbox", and so on until Bert gets to "I eight the sandbox." "You ate the sandbox? How'd it taste?" Ernie asks. (First: Episode 0019)
Cartoon: A man displays the capital and lowercase A, and explains what an alligator is...before he is eaten by one. (First: Episode 0006)
Cartoon: "Poverty Q": A figure demonstrates Q words, despite the unruly stem of his letter Q that keeps detaching itself. (First: Episode 0048)
Countdown series: The rocket takes off at seven. It comes back down so the director can continue his countdown, but at one, it falls over with a huge crash. (First: Episode 0022)
Countdown series: The rocket successfully launches as everyone celebrates. (First: Episode 0042)
Ad blocker interference detected!
Wikia is a free-to-use site that makes money from advertising. We have a modified experience for viewers using ad blockers

Wikia is not accessible if you've made further modifications. Remove the custom ad blocker rule(s) and the page will load as expected.