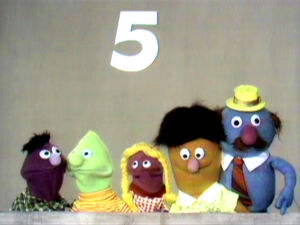 Batman and Robin catch crooks who have dirty windows.
Film: A kid taking a shower explains how animals, people, and things get clean. (First: Episode 0001)
Cartoon: Poor Solomon Grundy washes a different part of the left side of his body every day, but at the end of the week, "he's still half dirty!" (First: Episode 0001)
Film: Three boys (including Brian Henson) pretend to be steam shovels, playing in the dirt. This segues into footage of real construction vehicles. A parallel is drawn between the machinery and how the boys' arms and mouths work. (First: Episode 0003)
Ernie and Bert have difficulty scratching their backs, so both help each other scratch their back. While Ernie's itch takes a little too long to scratch, he introduces a film called "Everybody Scratch". After the film, Ernie notices that Bert has stopped scratching his back; Beautiful Day Monster is. (First: Episode 0012)
Cartoon: A man uses a ladder to climb up to the top of a capital L. (aired twice) (First: Episode 0031)
Cartoon: "Poverty U" -- A figure gives a salute to the letter U, and presents the letter with a bouquet of flowers. (First: Episode 0036)
Cartoon: "Count Up Elevator" -- An elevator operator stops at ten floors to pick up passengers, including a witch, a fireman, and a kangaroo. The tenth passenger, a mouse, causes the elevator to overload and explode. (aired twice) (First: Episode 0003)
Ernie, dressed in his football uniform, marches around the apartment reciting his team chant. He tells Bert he's a member of the Dirty Rugs, named such because everyone beats them. (First: Episode 0009)
Ad blocker interference detected!
Wikia is a free-to-use site that makes money from advertising. We have a modified experience for viewers using ad blockers

Wikia is not accessible if you've made further modifications. Remove the custom ad blocker rule(s) and the page will load as expected.