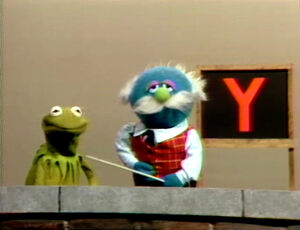 Professor Hastings talks about the letter Y. As usual, he drifts off and Kermit has to remind him what he's teaching. When the frog's response is "Y", Hastings answers, "Because I forgot."
Batman teaches around, up and through.
Cartoon: A fisherboy catches all the letters of the alphabet and makes alphabet soup. (First: Episode 0004)
Kermit's Lectures: Kermit talks about hair. According to Kermit, "Hair is a part of you. It is not a part of me, because I am a frog." He points out that some people have hair on their heads, while others have it on their faces. But if you have hair all over your body -- like Beautiful Day Monster, who emerges brushing himself and singing "A pretty girl is like a melody ..." -- then you're a monster! (First: Episode 0028)
Cartoon: A man uses a ladder to climb up to the top of a capital L. (First: Episode 0031)
Cartoon: "Poverty U" -- A figure gives a salute to the letter U, and presents the letter with a bouquet of flowers. (First: Episode 0036)
Cartoon: A boy counts while erasing things and people. (aired twice) (First: Episode 0008)
Ernie and Bert: Bert has a number 4 in his hand, and asks Ernie what it is. Ernie doesn't know, and guesses that it's a chocolate pie. Bert decides to cut to a film about the number 4, so that Ernie can get a clue. When the clip is over, Ernie makes another guess: a cream pie. "If this is a cream pie, then what is this?" asks Bert, while he pulls out a cream pie. "That's a four!" Ernie grins, and Bert pushes the pie in Ernie's face. "I knew it was a pie," Ernie remarks to the camera, "but who wants to be hit in the face with a number four?" (First: Episode 0006)
Film: A mom and her son comment on a film of various animal babies and their moms.