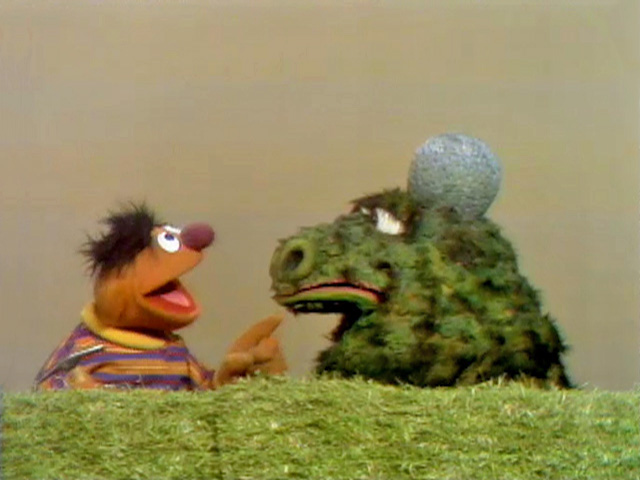 Film: An apple grows on a tree.
Cartoon: Poor Solomon Grundy washes a different part of the left side of his body every day, but at the end of the week, "he's still half dirty!" (First: Episode 0001)
Ernie and Bert: Bert sees Ernie talk to "an elephant" while using a banana as a phone. Ernie explains to Bert that he is just pretending, but then he tells Bert that the elephant wants to talk to him. (First: Episode 0004)
Film: "ROUND" -- A live-action film shows circles in everyday life, from Coca-Cola bottle caps, to moving wheels, to yo-yos, bubbles, and balloons, set to a lively soundtrack. (First: Episode 0002)
Cartoon: A self-proclaimed "handsome" fly (voiced by Casey Kasem) is indignant about appearing in a segment about the letter F with a "fat and ugly" frog. The frog solves the problem by eating the fly. (First: Episode 0034)
Cartoon: A Gary Owens-voiced man attempts to discuss the letter I, but is jeered by an offscreen voice. The man uses him as an example of the word "impolite". (First: Episode 0032)
Cartoon: Ten little Greeblies (bug-like creatures) keep getting separated by their group, teaching a lesson in counting backwards. (First: Episode 0006)
Film: A junior car dealer displays cars of different sizes to people of different sizes. (First: Episode 0003)
Ad blocker interference detected!
Wikia is a free-to-use site that makes money from advertising. We have a modified experience for viewers using ad blockers

Wikia is not accessible if you've made further modifications. Remove the custom ad blocker rule(s) and the page will load as expected.