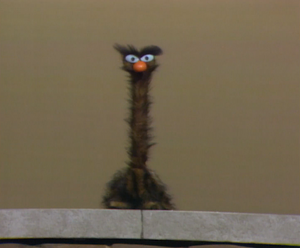 Batman and Robin attempt to capture the Joker, while teaching a lesson in crossing the street safely.
Cartoon: A goat discusses the letter "G". A man comes by to also talk about G, but rather than point out that "goat" is a G word, he observes the grass. Disgusted, the goat butts the man out of the way. (First: Episode 0085)
Cartoon: "Imagination O" -- A surreal story about a boy, a goat, and a bulldozer that closes up a hole in a cloud that blows the cold. (First: Episode 0011)
Cartoon: "Poverty Z" -- A figure tries to sell a Z. His only customer stops him by locking him inside a zoo cage. (First: Episode 0085)
Cartoon: Gloria, a rambunctious little girl, sings the alphabet song while an adult gives her instructions. (lowercase version) (First: Episode 0010)
Film: "What if you were magic, and could make things stop just by telling it to, or make it go backwards? Stop! Then you could see what things look like when they're moving. Go forwards! Stop! Well, film is magic, and this is a film, so you can be magic for three minutes. Like this: Go slow, water fountain! Now, you try it." (First: Episode 0047)
In a clay-animated segment, a green narrator uses his red and yellow friends (and a monster) to demonstrate how faces can show feelings.