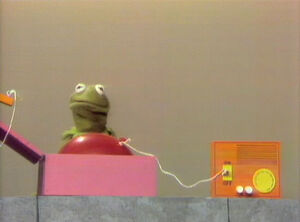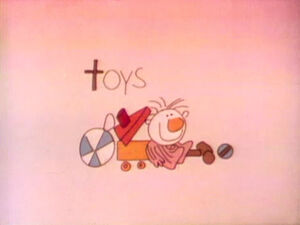 Kermit's Lectures: Kermit demonstrates his "What Happens Next" machine, which is designed to turn on his radio. None of the parts of the machine work properly.
Monsters, including an early Grover, Cookie Monster, and Beautiful Day Monster, pass on the message, "See." The wide shot reveals that the monsters were whispering about the Letter C. (Caroll Spinney performs Cookie Monster here.)
Film: There Once Was a Hand—Skip Hinnant narrates the story of an unhappy hand that wishes he could make a noise. (First: Episode 0007)
Cartoon: "Poverty H" -- an orange figure tries to talk about the letter H, but a yellow figure keeps listing H words. (First: Episode 0020)
Cartoon: A man (voiced by Gary Owens) explains how H starts the word "Hello", which is then demonstrated by people calling him and asking for someone named Harold. (First: Episode 0020)
Cartoon: A woman explains the letter H and its use in "horseshoe", when a horse comes to reclaim his shoe and starts tickling the woman. (First: Episode 0020)
Cartoon: A Casey Kasem-voiced man explains the letter T with a TV that plays a concert. When the man begins to sing with it, the conductor on the TV set "turns him off" by tweaking his nose. (First: Episode 0024)
Cartoon: A poem filled with T words, including a teacher, toys, Texas, and "turtles with brains". (aired twice) (First: Episode 0024)
Ad blocker interference detected!
Wikia is a free-to-use site that makes money from advertising. We have a modified experience for viewers using ad blockers

Wikia is not accessible if you've made further modifications. Remove the custom ad blocker rule(s) and the page will load as expected.