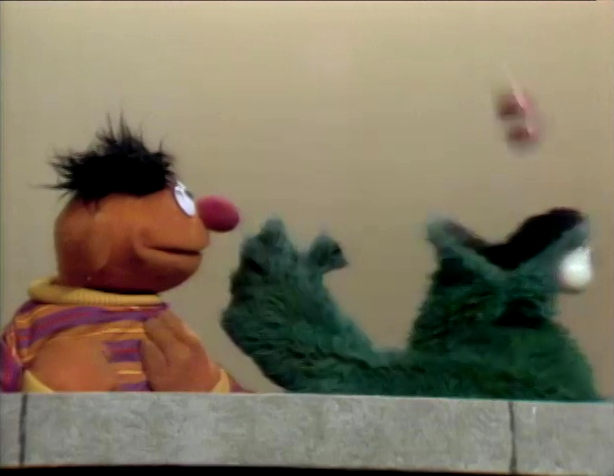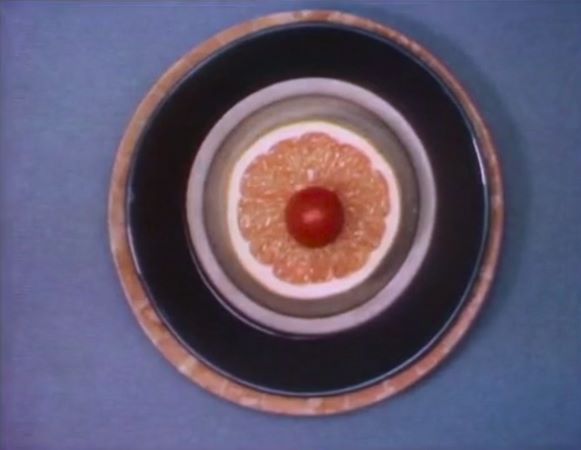 Lefty the Salesman wants to sell Ernie an empty box, explaining that he can fill the box with things. Ernie wants an empty box, but doesn't have any money. However, when Bert brings a box of cookies, Ernie throws the cookies out, in the process gaining an empty box.
Kermit's Lectures: Kermit teaches "full" with a full glass of milk until Cookie Monster drinks it all (with a straw). Disgusted, Kermit complains that he didn't want to teach "empty", but finds that he can still talk about "full"; the monster is now ''full'' of milk.
Ernie sings "If I Knew You Were Coming I'd've Baked a Cake" when a hungry Cookie Monster demands a cookie. (First: Episode 0031)
Ernie and Bert are watching TV, but Bert gets bored and decides to play a record. Ernie tells him to turn down the volume, but Bert won't, so Ernie drowns out Bert's music by playing the radio. Bert then retaliates by turning on the blender. With all four things running at once, they blow a fuse. Bert goes outside to fix the fuse box, while Ernie turns off all the things that were running. When the lights are back on, they decide to play cards instead of fight. (First: Episode 0003)
Film: "ROUND" -- A live-action film shows circles in everyday life, from Coca-Cola bottle caps, to moving wheels, to yo-yos, bubbles, and balloons, set to a lively soundtrack. (First: Episode 0002)
Cartoon: A man displays the capital and lowercase A, and explains what an alligator is... before he's eaten by one. (First: Episode 0006)
Cartoon: "Poverty H" -- an orange figure tries to talk about the letter H, but a yellow figure keeps listing H words. (First: Episode 0020)
Cartoon: A woman explains the letter H and its use in "horseshoe", when a horse comes to reclaim his shoe and starts tickling the woman. (First: Episode 0020)
Cartoon: A Casey Kasem-voiced man explains the letter T with a TV that plays a concert. When the man begins to sing with it, the conductor on the TV set "turns him off" by tweaking his nose. (First: Episode 0024)
Cartoon: A poem filled with T words, including a teacher, toys, Texas, and "turtles with brains". (aired twice) (First: Episode 0024)
Countdown series: After the countdown, water comes out of the rocket and splashes everyone. (First: Episode 0022)
Countdown series: The rocket takes off at seven. It comes back down so the director can continue his countdown, but at one, it falls over with a huge crash. (First: Episode 0022)
Ad blocker interference detected!
Wikia is a free-to-use site that makes money from advertising. We have a modified experience for viewers using ad blockers

Wikia is not accessible if you've made further modifications. Remove the custom ad blocker rule(s) and the page will load as expected.